genealogy.discount

All of the very best Discount and promotional coupon codes for genealogy sites in one convenient place. Save money on your family history research and discover your ancestors today.
Have an Ad Blocker? In order for our links to work correctly please choose Do Not Run on this page so we are able to deliver your savings
1 month subscriptions now include the 1939 Register on Plus and Pro tiers at Findmypast.co.uk
Get £20 OFF a Diamond subscription at The Genealogist and receive FREE extras
Findmypast.co.uk - 1 month Plus subscription only £12.95
4 month The Genealogist subscription only £39.95 with discount
Enjoy findmypast discounts, ancestry offers and the genealogist promotional codes at Genealogy Discount
FindMyPast.com U.S genealogy -12 month Starter subscription only $34.95
Get exclusive monthly benefits as a 12 month subscriber with FindMyPast First. Priority support, exclusive discounts, free magazines, monthly competitions. Sign up now and get 10% off
1 Month Platinum GenesReunited subscription £19.95
1 Month Starter subscription at FindMyPast.co.uk just £8.95
40% discount at Forces War Records website with our code. Save today - 12 month subscription now just £34.95
Find My Past, Ancestry, Genes Reunited, The Genealogist, British Newspaper Archive 2017 discounts
British Newspaper Archive - over 23 million pages of local and national newspaper titles - subscriptions from only £12.95
Save up to £60 when purchasing an annual subscription at Ancestry.co.uk
Great offers at My History. Genealogy supplies specialist
The most up-to-date promotional codes for Genes Reunited, Ancestry.co.uk, Find My Past, The Genealogist and much more. Please recommend us to friends and family if you find the site helpful
60 FindMyPast PayAsYouGo credits only £6.95
10% OFF 12 month British Newspaper Archive subscription
AncestryDNA kits from only £79 - save on additional kits, excludes shipping
1939 Register at Findmypast. Now included on select 1 month subscription tiers
Findmypast.co.uk SAVE up to 90% today on subscriptions with the findmypast discount code.
iPhone Targeted Content


Genealogy Discount is best viewed in Landscape when viewing on iPhone.
Visit us on desktop/laptop for the full experience.
Android Targeted Content


Genealogy Discount is best viewed in Landscape when viewing on Android.
Visit us on desktop/laptop for the full experience.
Blackberry Targeted Content
Desktop and all none targeted content
Genealogy Discount
Welcome to Genealogy Discount

Get the latest discount codes, special offers and free access notifications from Genealogy Discount. We show you the best deals available allowing you to have affordable access to the family history records you need to research your family tree.

Browse our daily offers and check back regularly to get the latest promotions.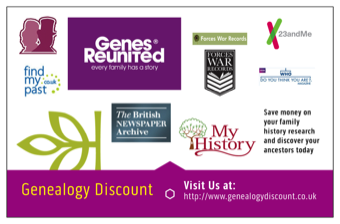 Findmypast

Why subscribe to Findmypast?


▪ Specialising in British family history records including census, birth marriage and death, Parish records, passenger lists and military records - Findmypast offers a number of affordable subscriptions to suit your genealogy research needs. A Pro subscription will further your research with billions of records from the US, Canada, Australia and Ireland
▪ Up to 8 billion family history records including over 23 million British and Irish newspaper pages from local and national titles dating from the 1700's
▪ The premium 1939 Register collection detailing your ancestors on the eve of WWII with 12 month and select 1 month subscriptions
▪ The largest online collection of Irish genealogy records with a Plus subscription
▪ Exclusive offers for annual subscribers with Findmypast First.
▪ Thousands of new records added each week
▪ Rare and exclusive genealogy records
▪ Regular Findmypast special offers and discounts
▪ Localised sites for the UK, Australia, Ireland and the US




The Genealogist



Why subscribe to The Genealogist?

▪ Features records you won't find anywhere else with multiple subscription options to help get the most out of your family history research
▪ Searchable Tithe maps for England and Wales
▪ Extensive military records
▪ Regular subscription offers and discounts
▪ Unique powerful search tools to aid your research
▪ Regular releases of new and updated record sets
▪ Millions of British genealogy records including Census and Parish records, Polls and Electoral Rolls, Landowner records, Criminal records and much more


Ancestry



Why subscribe to Ancestry.co.uk?


▪ The UK subsidiary of Ancestry.com - focussing on bringing genealogy records and services to the UK market
▪ FREE 14 day trial that will enable customers the opportunity to explore the genealogy records available and begin their family tree
▪ Three distinct subscription levels allowing you to only pay for what you need. Essentials - everything you need to begin your journey, Premium - unlimited access to over 1 billion UK records, or Worldwide - access to the entire Ancestry library of records
▪ Over 16 billion records available when choosing to subscribe to the Worldwide tier
▪ 'Hints' allow the user to discover records of individuals of interest that may add further ancestors to their tree
▪ Regularly updated content
▪ Rare and exclusive genealogy records
▪ Further your knowledge with AncestryDNA - reveal where your ancestors came from

Genes Reunited



Why subscribe to Genes Reunited?

▪ Join the community, build your family tree, search and view other members trees with a Standard subscription or
▪ Choose a Platinum subscription and access all census records 1841-1911 and birth marriage and death records
▪ Easily add other record sets such as military, Parish records and newspapers for an additional fee
▪ Regular subscription offers allowing you to join at a fantastic price
▪ Travel and Overseas records also available
▪ Contact members who share your ancestors to discover your family history

British Newspaper Archive


Why subscribe to The British Newspaper Archive?

▪ A huge, growing database of digitised British and Irish newspaper pages
▪ A unique way of discovering information about your ancestors, those who previously lived in your home, obituaries, family notices and more
▪ 24 million pages to explore from hundreds of local and national titles
▪ Regular subscription offers and discount codes
▪ Discover how news stories were reported at the time
▪ Delve in and read newspaper titles dating back as far as the 1700's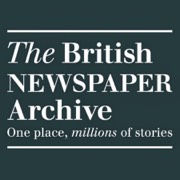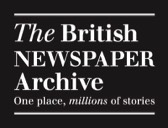 LAST CHANCE - ENDS MIDNIGHT
British Newspaper Archive 12 month subscription

SAVE 30%



Enjoy over 24,000,000 pages of historical newspaper articles dating back to the 1700's.
Delve in to fascinating historical details of how news was reported at the time, how products were advertised and the possibility of discovering your ancestors, the stories of those who previously lived in your home, family notices, letters, obituaries and more.

You are sure to discover something of interest at The British Newspaper Archive.

Save 30% for a limited time.
Was £79.95 now only £55.97
Choose a 12 month subscription - offer ends 17th March

LAST CHANCE - Ending Soon
Take advantage of this great offer now

Deal ends in:


Scroll down or click the icons at the top of the page to discover
many more discount codes for your favourite genealogy sites







For U.S, Irish, Australian and Canadian genealogy
and genealogy magazine discount codes, click in menu

Be the first to find out about the latest genealogy discounts

Keep up-to-date with all of the latest genealogy discounts, special offers and promotional codes of your favourite family history resources.

Subscribe to our occasional newsletter to get the current news on family history discounts and promotions sent directly to you.

Please add admin @ genealogydiscount.co.uk to your email safe list so you successfully receive our emails. Please check your junk email if you do not receive an email after subscribing, our confirmation email may have been directed there.

Important: You will receive an email asking for confirmation that you wish to subscribe, if you do not confirm we will be unable to send you our newsletter.
Do not use ntlworld and virginmedia email addresses as emails sent to these are showing as not being received by our email provider.

Never miss an offer again.


Genealogy Discount Newsletter Signup